This graphic designer from Victoria town, Tarlac province is producing unique pottery that's now the rage among local gardening enthusiasts. Blending geometric shapes with local patterns, his products feature a distinctly Filipino aesthetic that has caught the eye of overseas buyers.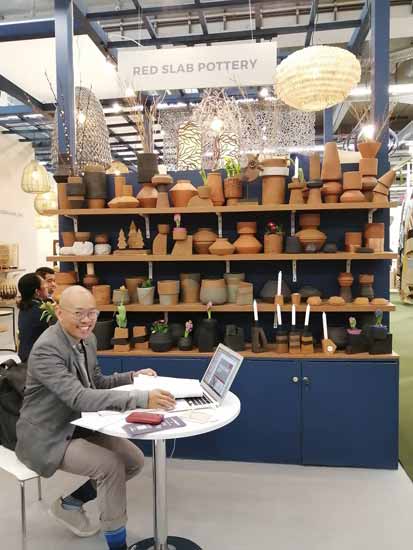 "I don't think of a 'problem' as a problem. I just think it's something I need to do or address."
Designer-entrepreneur Eric Sanchez may be born in Dagupan City, Pangasinan province, but his family moved to Victoria town, Tarlac province in 1984 and lived on his parents' farm. He finished elementary and high school at Don Bosco Tarlac, where he says he developed his artistic inclination.
"We had subjects like drawing, drafting [and] carpentry, so we made things," Eric recalls. "This gave me a good foundation in industrial and product design."
His older brother, now a physician in Tarlac, created watercolor artworks, which inspired Eric to enter the field of graphic design. He worked for over two decades with prestigious advertising agencies such as Ogilvy Mather, Basic, Publicis Manila and PM1 ARC Worldwide-Leo Burnett as designer and, later, creative director.
Once, on a visit to their homestead in Victoria, Eric discovered that the town was a source of excellent terracotta clay. "This made me wonder why no one had set up a pottery studio here," he says. But his big "a-ha" moment came when he visited San Matias in Pampanga and noticed the robust development in the area — cars were plentiful and the houses were spruced up. Furthermore, the place was known as a leader in the pottery industry.
The thought that his hometown possessed a valuable but underused resource fired up Eric to the point he decided to hire a potter and build a shed and kiln. His advertising background influenced him to design pottery with a difference. "If Pampanga was known for its classical terracotta pots, I would go geometric," he says.
Samples from Red Slab's product range feature pottery with a difference, guaranteed to delight anyavid horticulturist. CONTRIBUTED PHOTOS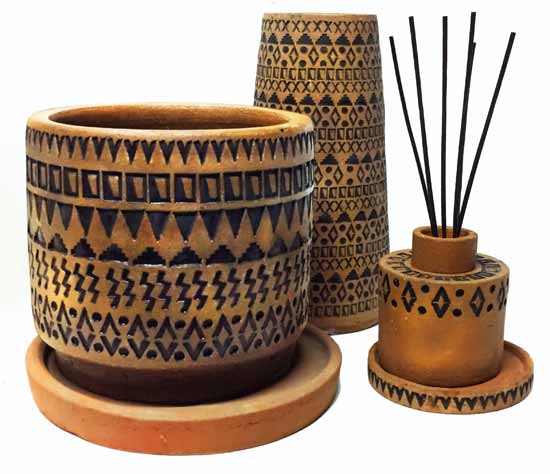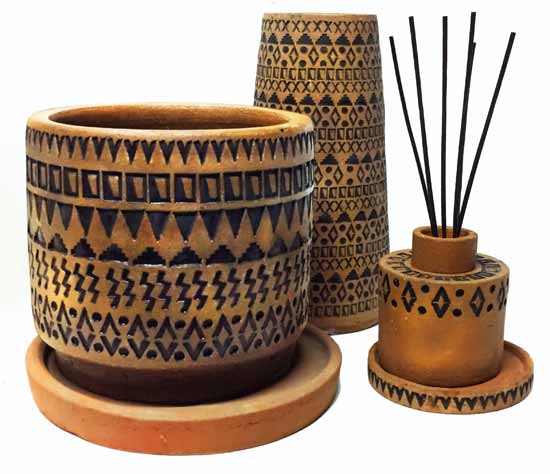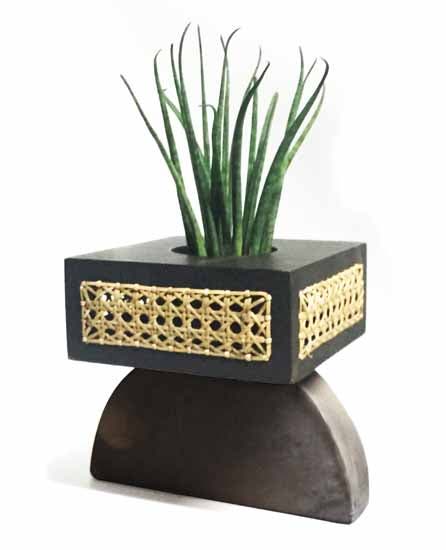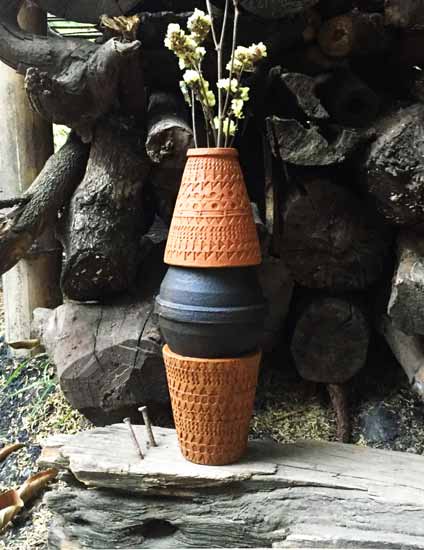 Inspired by Victoria's red clay, Eric named his pottery enterprise "Red Slab." Slab refers to the main product churned out by the villages, which he decided to give a creative spin to and made up his early product range. Today, however, he offers both decorative slabs, as well as pots featuring indigenous motifs and patterns of the Kalinga and Subanon communities. He combined geometric shapes with local patterns, imbuing his terracotta pieces with a modern Filipino aesthetic.
The early days of the business proved challenging. "I had only bad-ass ambition and a hunch, but no real business plan," Eric admits. "Now I realize goals are important, so I'm formulating my business plan." He struggled with his fear of operating independently and the comfort of a corporate job. He decided to do both, working in advertising while pursuing his pottery dream.
"I had to learn the difference between an abundant mindset and a poverty mindset," says Eric, who has gone through various belief systems from gurus Deepak Chopra and Jim Rohn to Wayne Dyer and even Oprah. He also encountered some business mentors in Tarlac. So far, the results have been promising, and Red Slab is slowly, but surely building its export credentials. It has participated in global trade fairs, like the Good Design Exhibition in Tokyo (2018), Ambiente Fair Messe Frankfurt (2018 and 2019), IFFT Tokyo Fair (2017 and 2018) and Manila Fame (2017 and 2018). He bagged the Awardee of Manila Fame Katha Design in 2018.
While Red Slab was busy fulfilling export orders, the coronavirus pandemic happened, forcing many businesses to close shop. But not Red Slab.
The pandemic-induced quarantine forced people to stay home, where they discovered — or, in the case of some, revived — their green thumb. These plantitos and plantitas (the millennial term for gardening enthusiasts) also wanted attractive accessories in which to display their handiwork, and Red Slab benefited from this interest in horticulture.
"Suddenly, people ventured north, looking for raw terracotta pots and found us!" says Eric. "They compared Red Slab to other pottery [providers] in Luzon, and we are now regarded as kakaiba (different)."
The pandemic also moved people online. "Instagram and Facebook gave Red Slab visibility, and we became the brand that offered new stuff despite the fact that the pottery pieces they saw were export overruns or samples," Eric says. The new challenge required the company to be agile and flexible in responding to local market demand. The humble shed he constructed at the start evolved into a rustic showroom. "We were [at first] wary of local buyers coming to our shop. But since we were basically outdoors, with safe distancing and masks, plus face shields, we were okay," he adds.
Downsizing may have become the key to survival for some businesses, but in the case of Red Slab, new potters have been hired, expanding the team to 15 workers. When production deadlines are tight, work is outsourced to two pottery-making villages in Tarlac.
The pandemic has shifted Eric's focus from design consultancy to his promising pottery venture. "I believe the excitement and interest in pottery is not only local, but [also] global," he says. "I received inquiries [through Instagram] to ship items abroad. Then, we had reorders of our pot exports from last year." Asked what keeps him awake at night, he replies: "Thinking of new systems to make our operations better. I don't think of a 'problem' as a problem. I just think it's something I need to do or address."
"Local demand made it difficult to get more potters," he adds. "Skills training is a priority now because clay is abundant. I also think the kiln design should be upgraded." He says he wants to further enhance Red Slab's designs, venture into new global markets and protect their designs from copycats.
What does the future hold for Red Slab? "We will offer more art pieces," Eric vows. "I started posting new designs in The Artling and Saatchiart.com [online art galleries], and I sold some last month. My vision going forward is to have a presence in design boutiques and museum shops abroad."
"I also envision a pottery garden center for our local and international clientele, and perhaps, a pottery residency [program] for local potters and artists," he adds.
Yes, today, one can say, Red Slab is no longer Victoria's secret.
ABOUT ME
ROLE MODELS
I look up to entrepreneurs Rob Dyrdeck, Tessie Coson, the late John Gokongwei and Tony Robbins. They know how to deal with their limitations and have the belief system to transcend them. Designers and brands whose work inspire me — Shanghai Tang for flamboyance and Bea Valdez, Ann Pamintuan and Wyn Wyn Ong, who are rooted in Filipino sensibilities.
GOALS
I want to develop my company Red Slab and level up the designs and the skills of my potters. I want it to be in design boutique stores, museums and gallery shops. I would like to create a relaxing garden and "visitors' pods" for global buyers and locals in Tarlac. Then go wakeboarding and spend time on the beach when this pandemic is over.
FIRST PAYING JOB
I was a visualizer/graphic designer and copywriter in Mega Pacific Graphic Design
MORNING RITUAL
I wake up at 4 a.m., check my to-do list, exercise, meditate and focus on my goals. I then work on emails, shower and have breakfast at 7:30 a.m. Th workers arrive at 8 a.m., and we discuss the workload and production status.
BEST SKILLS
I am into learning new things and not afraid to experiment. I take risks and don't care what others say about my creations.
TIME SPENT ON SOCIAL MEDIA
The pandemic moved work and social life online. I communicate with buyers through email, Facebook and Instagram. Even locals discovered Red Slab online. I also keep up with friends via social media, especially since most are in Metro Manila and I'm in Victoria, Tarlac.