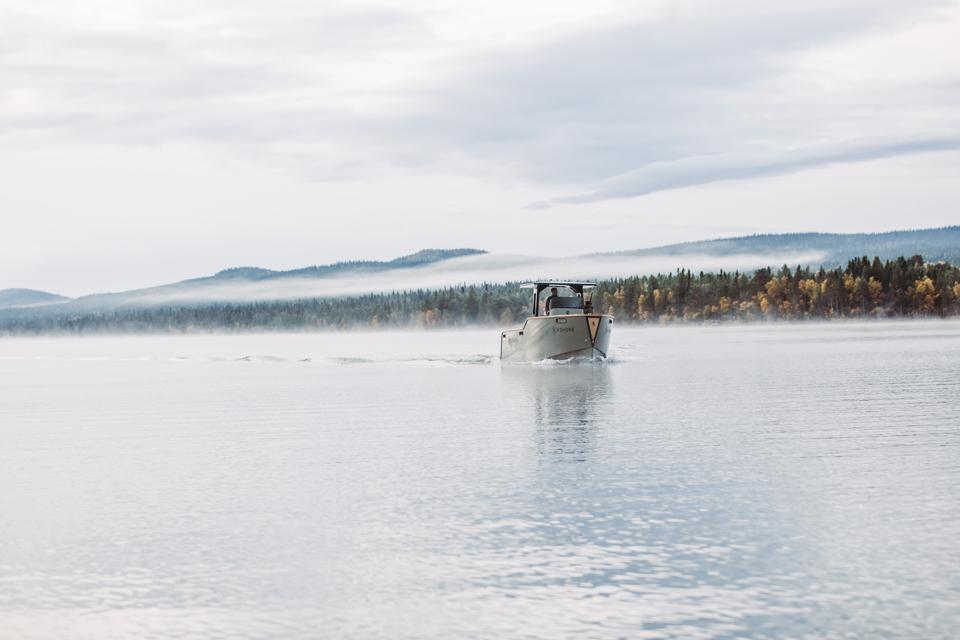 About 200 metres out from the jetty, Konrad Bergström asks me a question he's almost certainly asked before: what can I hear? Nothing, I reply, just the sound of the water as we glide through the harbour in Stockholm. We could be on a sailing boat, it's so quiet. 
I'm aboard the 2021 model of the Eelex 8000, X Shore's luxury electric speedboat. It was the search for just this sound of the waves that first inspired Bergström in his quest to build an electric speedboat. But perhaps the real appeal of the boat is that it can go up to 40 knots and accelerate rapidly – all while creating no emissions. 
Bergström is characteristically bullish. "This summer, when so many people weren't going abroad, we had a record number of enquiries and orders in Sweden," he says, pointing out that the boat's range – up to 100 nautical miles (approximately 185km) at moderate speeds, and around 35 nautical miles (about 65 km) at 25 knots – is ideal for a day's cruising. "But we also saw more orders from abroad," he adds, "especially from the Middle East.
It seems the coronavirus pandemic has accelerated sales of electric boats. Yet even without the pandemic, the trend was already up. By 2027, ID Tech Ex estimates the global market will be worth more than $20 billion. By volume, electric leisure boating is the largest market, with tens of thousands of craft sold yearly.
According to BlueWeave Consulting, the global electric boat market is expected to continue growing at a compound rate of 11.7% a year from $8.31 billion in 2019. The consultants point out that different innovations in batteries, motors and components are driving a variety of technological changes.
Rising standards of living and disposable incomes and the growing popularity for electric boats, as well as tighter government restrictions on carbon emissions are helping to drive this trend. 
Electric boats can often seem a little boxy when compared with motor boats. It's probably fair to say the Eelex isn't an exception. But once you're on board, it doesn't matter. The boat is beautifully finished, with a wooden deck with a bespoke railing system which allows customers to modify the design on board – or to transport bicycles and furniture to the archipelago or wherever for the weekend.
The GPS screen is huge and clear, revealing the nearby rocks and craft ahead. There's also a spacious storage area at the bow of the boat –the boat will take a load of up to 2,500kg. There's no mess, no oil, no grease; when the crew lift the hatch, the storage area around the battery is spotlessly clean.
The boat comes with all the gizmos expected to go with a modern luxury speedboat, from a smartphone and smartwatch app that allows owners to unlock the boat and start the engine, and which also stops the boat automatically if the wearer falls overboard.
Moreover, as Bergström points out, "The people who will buy this boat don't care about what they look like from the shore, they care about high performance while not polluting the water and destroying marine life. They are philanthropists." 
With prices starting at around €250,000, they have to be quite wealthy philanthropists. If I had that much money, I might be tempted. Fortunately for X Shore, there are plenty of people who do.
Deloitte estimates that there are more than 18.2 million ultra-high net worth individuals in the world, holding wealth of over €70 trillion between them. The consultant valued the luxury boat market, excluding yachts, at €1.2 trillion in 2018, and predicted (pre Corona) that it would grow by 5.8% a year until 2023.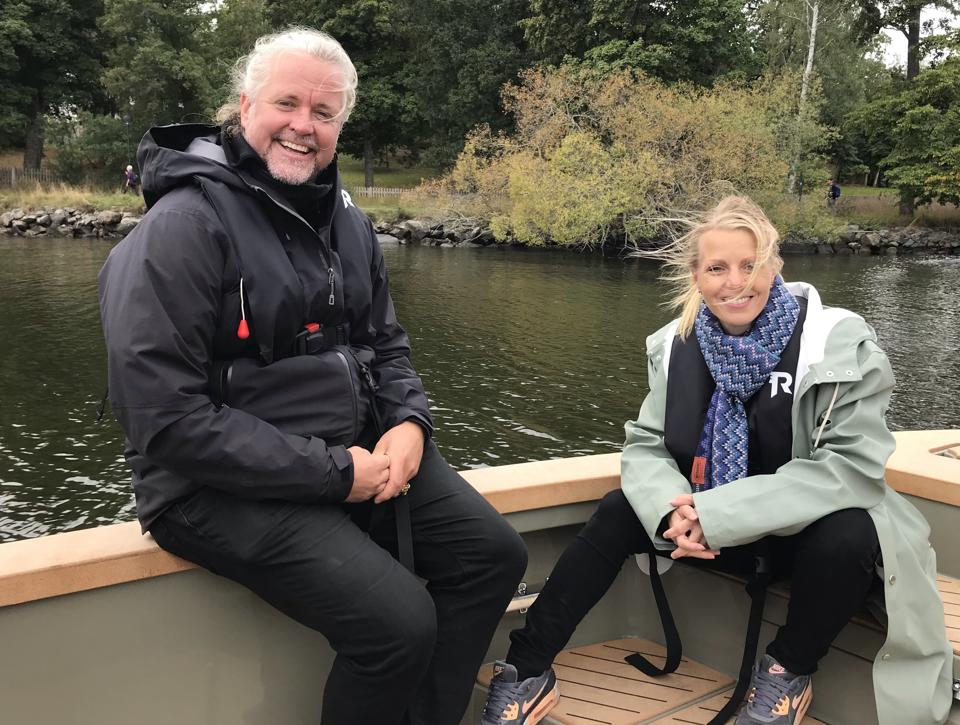 This isn't to say it's not a competitive market. Even at home, X Shore faces plenty of competition, and electric technology is relatively easy to scale up compared with motor engines. While Bergström has had many of Sweden's top marine engineers consulting on the Eelex, so too has Candela.
The Candela Seven is claimed to be the world's first hydrofoil electric boat, with a range of up to 50 nautical miles at 20 knots, and a top speed of 30 knots. Industry insiders say the hydrofoil gives a smoother ride than the Eelex, while the absence of wake minimises coastal erosion and damage.
Yet to Bergström, wake is a key part of the Eelex's appeal. A former sports icon who launched the world's first European wakeboarding cup, he tells me that Sweden's wakeboarding champions Melanie Staff and William Klang have surfed behind the Eelex.
In any case, X Shore is scrambling to scale up to keep up with demand. For many years just Bergström, a small team and some consultants, the company now has a workforce of 25, with Jenny Keisu, a former partner at Summa Equity, recently appointed as CEO. Former Northvolt president of Battery Systems Oscar Fors has joined the company as COO.
This signals a shift towards a more mature company. Is an IPO within its sights? Keisu and Bergström say this is not imminent, but don't rule it out.
Initially financed entirely by Bergström, a co-founder of Zound Industries, X Shore has raised €9.5M of funding including €1.5M of crowd investment through FundedByMe. The funds are being used to scale the business and to produce and deliver worldwide sales of a new 8-metre boat. Next year, the company plans to raise Series A funding to finance continuing expansion. 
When I met Bergström last year, he told me he wanted to create the Tesla of electric boats, so I asked him if Elon Musk had put in his order yet. No, he said, but we know he's been following us. I think he could afford it.