| | |
| --- | --- |
| | 24.10.2020: Culligan Middle East questions if sufficient legionella testing is being carried out as water systems shut down for months are switched on again photo: Rodger Macfarlane – technical director, Culligan Middle East |

Culligan Middle East questions if sufficient legionella testing is being carried out as water systems shut down for months are switched on again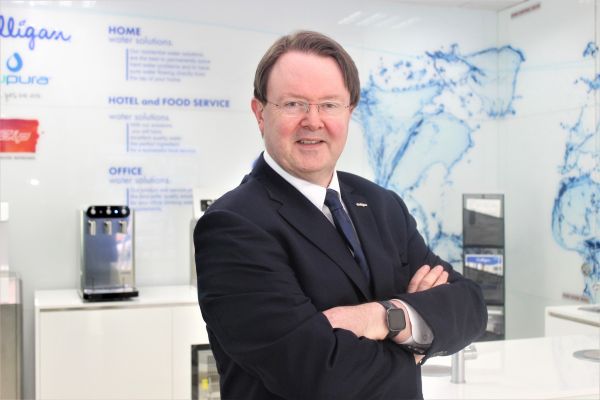 photo: Rodger Macfarlane – technical director, Culligan Middle East
As more hotels, malls and offices reopen in the Gulf region with the relaxing of Covid-19 restrictions, experts have raised concerns over the level of business and domestic water hygiene safeguards.
Culligan Middle East, one of the region's water treatment companies, is questioning whether sufficient legionella testing is being carried out as water systems shut down for months are switched on again.
"Our main concern is with domestic water systems, as apartments as well as hotel rooms are being vacated and left empty for a period of time," says the company's Dubai-based technical director, Rodger Macfarlane, a vastly experienced chemical engineer.
 
"The question is, are enough checks being implemented by the entities that are in the process of reopening? Even as an absolute bare minimum, are the water outlets, spray taps and showers, being flushed through before apartments and hotel rooms are reopened? The same question has to be asked for offices and restaurants in malls."

Adds Macfarlane: "Municipalities in the region don't appear to be telling business that they have to do anything special, so they're not. In fact the opposite is the case.
"Cost cutting by some is leading to a reduction in the amount of legionella testing. We would have expected businesses to at least be opting for on-site quick checks for legionella before opening a building and putting a water system online. But none are asking us for extra testing."
"A full legionella check, meanwhile, is a laboratory process which takes a week just for incubation. So if you're opening a building, you're not going to know if your water is safe until seven days after you've taken the sample. By then the building could have been open for a few days."
Macfarlane says the biggest potential sources of legionella in the region – cooling towers and fountains – are well protected. "These are monitored and controlled very closely indeed in terms of legionella – the pass mark is very high," he said.
– Narayan Marar, Total Communications Dubai – also photo
Make water the solution to your problems
29.09.2020
Worn out by the effects of the coronavirus? Worried about job security? Eager to strengthen your immune system? Drink more water!Caption:          Rodger Macfarlane – Technical Director Culligan Mi more >>
Proper hydration in the workplace vital to boost business, says Culligan
23.09.2020
Water strengthens immune system, aids productivity, but many still don't drink enough and performance suffers, UAE companies toldphoto caption:    Rodger Macfarlane – Technical Director Culligan Middle East. more >>
Exhibitions to play critical role in post−covid world as Dubai re−starts events industry – study
17.08.2020
Dubai perceived as safest destination to host global exhibitions and conferences according to surveyDubai is seen as the safest location to host international exhibitions and conferences in the coming months, while trade fairs will play a critical ro more >>
Dubai's drive to re-open for tourism gets five-star rating
19.07.2020
photo caption: The Grand Plaza Movenpick Media City – working with Culligan to deliver new health and  safety measures.Movenpick GM says positive signals increase on daily basis as Culligan plays key health and safety role more >>
Culligan ramps up sanitiser production to meet Middle East, Africa demand
12.07.2020
Water treatment specialist Culligan Middle East has ramped up production of a sanitiser at its Dubai manufacturing plant to meet demand from Africa and other GCC countries.Caption:  Rodger Macfarlane: "We've literally quadrupled our production more >>
Safety report backs Culligan switch to produce sanitiser in response to pandemic
06.07.2020
Culligan Middle East has earned safety approval from an independent research specialist for the sanitiser developed in the UAE when the company created a new product line in response to the Covid-19 pandemic.Caption:     Rodger Macfarl more >>
Dubai lab breakthrough helps build safety in the workforce
02.07.2020
Culligan chemical research experts turn water treatment product into multi-purpose protection for businessphoto caption: Rodger Macfarlane: "We're pleased to be playing our part in helping business recover." more >>
Meditation a necessity to combat crisis, says Dubai Yoga teacher
03.06.2020
Sanjeev Krishna, coach to government officials, business leaders, says yoga can help bosses handle mounting pressures much betterCaption:   Sanjeev Krishna – says meditation now is not an option, but a necessity. more >>
Saudi creates golden age for Startups, but there are no short cuts to success, says young Arab entrepreneur
29.01.2020
photo caption: JustClean Co-Founder Athbi Al-Enezi – "It's vital to have passion for what you are doing as well as belief and drive in what you are trying to achieve in business."JustC more >>
Saudi is prime hub for startups in Middle East, and online business knowhow is booming, says young entrepreneur
10.12.2019
JustClean co-founder says Kingdom made it easier than any other Gulf country to set up businessphoto caption:  JustClean Co-Founder Athbi Al-Enezi – says understanding of online business is more >>
The UAE and its key players love their supercars, so SUPERFUTUREDESIGN* decided to create the SUPERCAR CAPSULE
09.12.2019
… a unique concept that gives your expensive toys a centre stage to captivate the audience.  Developed by a team of architects and designers for a taste of bespoke luxury, which includes supercars. Their passion for spectacular supercars has led them to create a distinct spatial design that enhances the car's features. After all, your luxury more >>
Al Tayer Motors Proudly Opens State-of-the-Art Ferrari Showroom in Dubai
04.12.2019
Facility among the world's largest for the Prancing HorseAl Tayer Motors, the official Ferrari importer in the UAE, confirms its commitment to deliver unparalleled customer experiences to their Ferraristi within the country. T more >>
Faith Capital invests in Justmop's home cleaning platform
25.11.2019
…as GCC's $2.5 billion home cleaning space booms photo caption: (back L to R) JustClean Co-Founder Nouri Al-Enezi, CEO Mohammed Jaffar and Co-Founder Athbi Al-Enezi (front) Justmop Co-Founder & CEO Ali Cagatay Ozcan and Co-Found more >>
JustClean Technology company expanding across Gulf into overseas markets is building for IPO
13.11.2019
JustClean campaign to mark regional growth gives customers chance of $5,000 cashphoto caption: JustClean CEO Mohammed Jaffar (left) with Co-Founders Nouri and Athbi Al-Enezi. more >>
Al Tayer Motors facility has world's largest display area for Maserati in Dubai
06.11.2019
Maserati has officially opened a new, beautifully designed showroom in Dubai, featuring the largest display area of any Maserati dealership in the world.     With 3,644 m2 dedicated to the Brand, Al Tayer Mot more >>
JustClean investment boosts Keno expansion plans
03.11.2019
Technology company modernizing regional laundry industry backs UAE car wash business to continue growthphoto caption: JustClean Co-Founders Nouri (left) and Athbi Al-Enezi, with Kenan Mobayed (far right), Founder of Keno, and Co-Founder and COO Rayyan Has more >>
JustClean honoured at Arabian Business Awards
30.10.2019
Technology company's co-founders recognised as Future Stars for giving new dimension to regional laundry business  photo caption:    JustClean Co-Founders Nouri (left) and Athbi Al-Enezi receive their Future S more >>
Cityscape Global Dubai -features
26.09.2019
The 19th edition of Cityscape Global was headlined yesterday by prominent developers, a delegation of 500 investors from the US, and experts discussing the latest trends in the real estate sector at the free-to-attend forum hosted on the exhibition floor.  Running until Friday, the 27th September at the Dubai World Trade Centre (DWTC), the exhibition floor includes big na more >>
Wakeboarding to make big splash in Abu Dhabi
05.09.2019
Riders to compete for world titles in ten age-groups at ADIMSC DIMSC offers a superb venue for spectacular marine sport action more >>
JustClean – Technology company transforming GCC laundry business set for major growth in UAE, region
01.09.2019
JustClean says US$3 billion industry set to move almost exclusively online within five yearsphoto caption:    JustClean Co-Founders Nouri (left) and Athbi Al-EneziThe compan more >>
UAE to create new gateway for soaring e-cigarette industry
25.08.2019
World Vape Show turns Dubai spotlight on market rising to US$53.4 billion amid growing demand for alternatives to traditional tobaccoThe World Vape Show will help grow the emerging e-cigarette market, currently worth US$267.9 million in the MEAMore than 64 million people will switch to vaping devices instead of smoking traditional more >>
Berkeley Assets appoints DLA Piper to handle all legal matters globally
24.07.2019
Private equity firm hands contract to global business law firm as part of ongoing international expansionCaption:    Omar Jackson: "Working with a law firm which knows our bus more >>
flydubai celebrates 10 years of bringing people together
12.07.2019
flydubai passenger traffic between the UAE and its African routes grew by 108% since 2015The Dubai-based carrier celebrates carrying more than 70 million passengers since its start of operations in 2009, more than five million of which were carrie more >>
Dubai Police receives recognition for support at Ramadan event for 10,000 labourers
28.06.2019
Berkeley Assets shows appreciation for Al Qusais Police Station's efforts in ensuring public safety, road closures in one of Dubai's largest iftar dinnersCaption:    Omar Jac more >>
Amir Khan wants Saudi fight to bring countries closer together
26.06.2019
Former unified world champion urges Pakistani, Indian boxing fans to help sport break down barriers Caption:    Amir Khan and Omar JacksonAmir Khan wan more >>
Berkeley Assets sees exceptional returns from investment in assisted living
10.06.2019
Private equity firm's venture in growing 'extra care' market revives story of market town's hat-making heydayCaption:    Berkeley Assets has announced its development fin more >>
Iftar dinners served to 10,000 labourers to mark Laylatul-Qadr
01.06.2019
Dubai Police close down road, divert traffic as Berkeley Assets, volunteers serve up special mealsDubai Police closed down a street and diverted traffic to allow more than 150 volunteers serve up iftar dinners to 10,000 labourers. more >>
Iftar dinner for 10,000 labourers to mark Laylatul-Qadr
27.05.2019
Dubai Police join hands with Berkelely Assets to serve up meals on holy occasion  photo caption:  Omar Jackson – praise for Dubai Police. more >>
Berkeley Assets enters Latin America with Mexico City operation
26.05.2019
Private equity firm's Dubai office to manage upcoming Far East operationsInternational private equity firm Berkeley Assets has launched its operations in Latin America, with a new offi more >>
UAE permanent residency scheme a "golden incentive" for entrepreneurs
22.05.2019
Private equity boss says setting up business has never been easier in UAE, land of opportunityEntrepreneurs attracted to the UAE by the new 'golden card' permanent residency scheme have more >>
Berkeley Assets UK arm receives Financial Conduct Authority (FCA) regulation approval
30.04.2019
International private equity firm completes application process by world-renowned financial services regulatorCaption:    Berkeley Assets' UK office has received FCA regulation approval, a major milestone in the company's development as an international private equity firmInternational more >>
Almarzooqi bags third victory in UAE Flyboarding Championship
27.04.2019
photo caption:    UAE Flyboarding champion Manea Habeeb Almarzooqi in actionManea Habeeb Almarzooqi completed a hat-trick of victories i more >>
Pressure on Almarzooqi in UAE Flyboard Championship
23.04.2019
Caption:  Competitors will take to the skies during Friday's Flyboard Championship in Abu Dhabi.The spotlight will be on Manea Habeeb Almarzooqi when  Abu Dhabi International Marine Sports Club stages the third round more >>
Luxurious health haven in Swiss mountains creates 'La Cure Nescens' for UAE obesity
22.04.2019
Nescens Clinique de Genolier experts' tailor-made programme  designed to help 27.8% of EmiratisCaption:     Professor Jacques Proust is on a mission to help reduce obesity rates in the UAE with a new tailor-made weight lo more >>
Singapore's "Melting Pot of Flavours" makes it ideal holiday destination for Middle East foodies
21.04.2019
Fatafeat TV's Chef Mohammad Orfali discovers hidden gems in Singaporean cuisine Chef Mohammad Orfali, star of the Middle East's leading food channel, Fatafeat, has extolled the virtues of Singapore as the destination for Muslim touri more >>
Saeed brothers claim double triumph in UAE Wakeboarding Championship
20.04.2019
Emirati star Omeir Saeed added another title to his growing collection with victory in the UAE Wakeboard Championship in Abu Dhabi.The 21-year-old Red Bull athlete lived up to his reputation as the country's top performer with another impressive d more >>
UAE star Omeir Saeed lines up new Wakeboarding target in Abu Dhabi
17.04.2019
Pro rider aims for double championship success with 11-year old brotherphoto caption:    Omeir Saeed is gearing up for the Wakeboarding Championship action which begins Friday 19 AprilEmirati star Omeir Saeed re more >>
Marathon man Hawair seeks sponsor boost to hit World Aquabike stage
17.04.2019
photo caption:  Hawair receives his UAE Jet Ski Marathon Championship trophy from Salem Al Remeithi General Manager of Abu Dhabi International Marine Sports Club.New UAE Jet Ski Marathon champion more >>
Ladies fishing catches on in Abu Dhabi
17.04.2019
photo caption:  Prize winners during the awards ceremony at Abu Dhabi International Marine Sports Club.The first ever Abu Dhabi Ladies Fishing Championship saw 96 women competing in an event which n more >>