Annalise Murphy snatched a second place in today's final race of Women's Laser Radial European Championships in Poland but that's as far as the good news went for Ireland's only sailor so far to be nominated for the Tokyo 2021 Olympics.
There's no doubt the Rio silver medalist will be disappointed with her final position in 27th an event the National Yacht Club sailor previously won in 2013.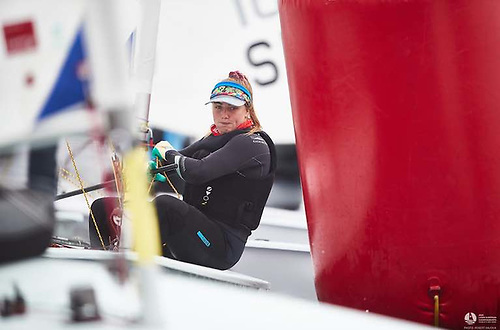 Aoife Hopkins – 32nd overall in Poznan Photo: Thom Touw 
Aoife Hopkins finished 32nd, while Howth clubmate Eve McMahon also had a solid event – at 16 years old she was by far the youngest in the fleet, and her qualification for the gold fleet and final position in 45th place is an indication of a bright future.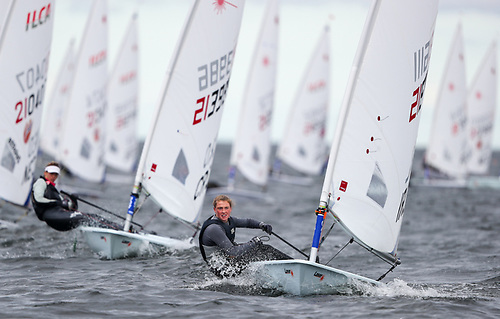 Eve McMahon – at 16 the youngest sailor to make gold fleet at the Radial Europeans Photo: Thom Touw
The reigning 2020 World and 2016 Olympic champion Marit Bouwmeester NED (2-1) surpassed the reigning 2019 European champion Anne Marie Rindom DEN (19-16) on the last day to be crowned the new 2020 Women's Senior European champion for the fourth time in her career.
Anne Marie governed the fleet during the whole event but had a terrible day today, scoring her worst two races in the whole championship, ruining the 20 points lead she had this morning.
Marit looked revitalised instead after the Yellow flag penalty received yesterday, and after that DNC she scored her best 4-1-2-1 results to climb to the top and grab her name on both the Worlds and European titles this year.
"I knew that it would be very difficult. All I could do is sail as good as possible. I've sailed a great day and were lucky that Anne Marie had a difficult day. Which is obviously out of my control" – Marit Bouwmeester NED
"It was not my day today. I let my emotions affect me today and I sailed under my level. I'm very disappointed and sad but it's a part of sport. I got to learn from it and come back stronger ", confessed Anne Marie.
The Bronze medal was finally for local sailor Agata Barwinska POL (15-7), overcoming Greek Vasileia Karachaliou GRE (29-14) by 5 points.
Results