South Laguna Beach local Greg Viviani has captured some of the areas most epic skimboarders, up close and personal.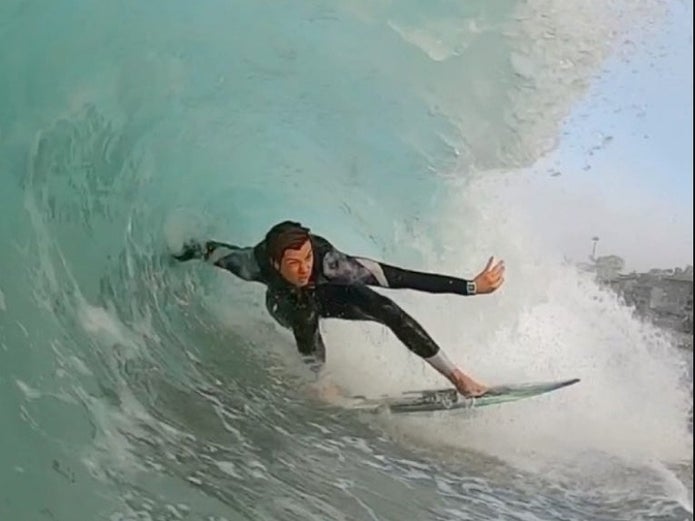 LAGUNA BEACH, CA — With hot weather inland, there is nothing like hanging out on the shores of south Laguna Beach, especially if you get to watch some excellent skimboarding.
Last year, the Victoria Skimboarding Championship filled Aliso Beach with hopefuls. This year, it's a bit different.
Victoria Skimboards has been around since 1976, and their world championships are a "high energy" and "spectator-friendly event." Something much missed in 2020.
Typically, people travel from all over the world to Aliso Beach in Laguna to participate in one of, if not the most, prestigious contests in the world for skimboarding. For now, the pros keep doing what they love, heading out, sliding into the surf, and showing what they're made of.
Local photographer Greg Viviani was out with his camera and drone to record professional skimboarders Tim Fulton, Paddy Mack, Johnny Salta, Austin Keen, and Blair Conklin in action.
Viviani, using his GoPro, puts himself right into the mix to record these athletes in action right in his backyard.
stroke="none" stroke-width="1″ fill="none" fill-rule="evenodd">

View this post on Instagram

A post shared by (@solaglocal) on Sep 27, 2020 at 1:18pm PDT
His video captures Paddy Mack as he raced from shore to barrel. "This guy knows how to get some shade on a sunny day, riding his Victoria Skimboard."
As Viviani went out to record Salta in action, "there were some massive closeouts," Viviani says. "I took a beating getting those shots, but was well worth it."
"I'm proud to call these two badass dudes my friends," Viviani said of Keen and Conklin. "If you ever see them around, be sure and say hello. They're both amazing guys."
We followed along, vicariously, to share these excellent photos, and video with you.