Just around the corner from Land's End – the most westerly point in England – lies Sennen Cove. The sands are golden, the water is crystal clear and, when there isn't a sea mist, the sun shines brightly.
But the real beauty of Sennen is that it faces perfectly west, so the Atlantic swell rolls straight in, bringing uninterrupted year-round waves to this Cornish beach.
I grew up in Sennen and still spend my time surfing and working as a lifeguard here. In summer, there will be thousands of people on the beach, so I look forward to autumn and winter when it's less crowded. In October, the water is around 13-15°C, so you need a thicker wetsuit – 4mm or 5mm.
In my teens I surfed competitively around Europe, and now, at 29, I freesurf across the world on the same global ambassador team as [Australian multiple world surfing champion] Mick Fanning and [US-based pro surfer] Rob Machado, but Sennen is my favourite place to longboard.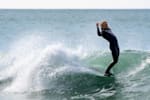 In longboarding, as the name suggests, an extended board is used – anything between just under 3m to around 4m long, as opposed to a 2m regular shortboard. It's a completely different approach to surfing – one aimed less at ripping and tearing a wave and more at building a harmonious relationship with the surf. This harks back to surfing's roots in Hawaii, where really long, heavy wooden boards were ridden thousands of years ago.
After the shortboard revolution in 1966, longboard development stopped and the sport became super underground until about 20 years ago. Now, at Sennen, we have this radical new crew of mainly young, female longboarders, including Izzy Henshall and Maisie Marshall, who are just surfing so well, so happily, that the positivity in the water is tangible. It's a change from years past, when the water was filled with grumpy middle-aged men struggling to get their high-performance shortboards to work on British summer surf.
To shortboard, you must have pretty good waves. With a longboard, because of its volume, you don't need as powerful a wave, which means you end up catching way more. That's what first attracted me – I wasn't interested in reducing my wave count. With a longboard, you can make the call to go and surf on what someone else might think is a really bad wave, but with a smile on your face. The most rounded surfers nowadays are those who ride both long and shortboards.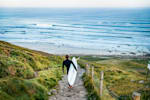 While you control a shortboard by leaning in and applying your weight to your front or back foot, on a longboard you make fewer radical changes of direction and, because of its length, you need to actually move around the board to make that happen. This involves cross-stepping – walking to the front of the board by shifting your body weight from one leg to the other.
Once there, you can experience one of the most special feelings in surfing: nose riding. As the surf anchors the back of the board, you're literally standing in mid-air. From here, you can perform a 'hang five' where you put one foot (five toes – hence the name) over the nose, or a 'hang ten' where you put both feet next to each other on the very tip of the board. In that moment, you're totally in balance with this energy that's breaking through the water, and achieving something that just feels super unlikely.
But to achieve true harmony you have to catch a 'green wave' – that moment before the wave breaks. When learning to surf, you're confined to the tumbling whitewater bucking the back of your surfboard and you really have to concentrate just to stand up. It's a giant step to go from the whitewater to the green wave, but it unlocks the door to all of surfing. Catching your first green wave is the most significant moment in a surfer's life; mine came at the age of 11, during an activities week at Cape Cornwall School.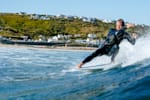 That first time on a green wave, I remember not really being able to process how monumental the moment was. But I realise now it was a pivotal one. As soon as you're on it, the whitewater stops messing around with the tail of your board and you're suddenly weightless, feeling a frictionless glide on the surface of the water. It sparks something close to a positive addiction.
The sea has given me everything I have. It's also my release from the myriad stresses of everyday life and the ultra-connected society we're now living in. It's my refuge. When I drive down the hill at Sennen and see those waves as I turn into the car park, it's an evocative feeling. Then I decide which board to use for that session, my wetsuit goes on straight away, and I run all the way into the sea.
Mike Lay is a pro surfing ambassador for Finisterre and Reef, as well as an RNLI lifeguard; finisterre.com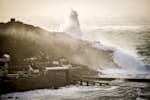 The best longboard spots
Sennen Cove, Cornwall
Lay's favourite longboarding beach is best surfed in autumn when the crowds are thinner, at low- to mid-tide.
Bantham Beach, South Devon
An Atlantic swell magnet between Salcombe and Plymouth, with shifting sandbanks and riptides, but when the waves are smaller you get ridiculously long rides.
Bay of Skaill, Orkney
A stunning point break where the North Sea butts heads with the Atlantic. And at the southern end of the bay is Skara Brae, a spookily well-preserved village from Neolithic times.
Saunton Sands, North Devon
Famous among longboarders looking for mellow, chilled-out breaks and endless waves.
Longboarding tips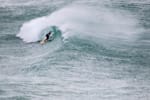 Mike Lay reveals how to get your 'log' on and hang five
Always think safety first – longboards are bigger and heavier with longer leashes, so you can have a really bad surf if the waves are too big. Chest-high is good, but ask a lifeguard for advice.

Stand normally with your feet perpendicular to the centre line (stringer) of your board.

Rather than shuffling, put your back foot over your front foot, to move towards the nose.

Start with just one step, but practise stepping backwards, because many people skip that. If you manage two steps forward, you'll essentially be nose riding.