Earlier this month, SURFER Magazine announced its first presidential endorsement in its 60-year history, for Joe Biden and Kamala Harris.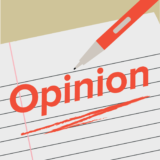 "The decisions made in the political realm have tremendous influence over our surfing lives and the health of our coasts," the magazine posted on Instagram in a preemptive rebuttal to the "keep politics out of surfing" types.
The comments fell along predictable fault lines: those who thought it was a bold move given the magazine's sizable readership in conservative Orange County, and those who treated the endorsement as polluted runoff seeping into the crystalline waters of their favorite surf break.
Countless commenters said they followed the magazine for surfing — not political opinions — and righteously declared that they would henceforth unfollow the page.
The following day, the magazine announced it was going out of business. The stick-to-sports crowd was quick to connect the dots: surely it was political posturing that brought about the magazine's sudden demise. This is obviously not true – for years ad revenue for print magazines had been undergoing a slow erosion, which the pandemic turned into a swift demolition – but for some it's a lot more satisfying to believe than the pesky nuances of reality will ever be.
But that's the first thing to understand about the stick-to-sports sentiment — nobody actually believes it. People only gripe about the politicization of sports when it isn't their politics, just like congressional Republicans only pretend to care about the precedent of not appointing a Supreme Court justice in an election year when a Democrat is in office.
It's All Politics
The same people who seethe and snivel about Colin Kaepernick taking a knee during the national anthem are suspiciously silent when President Donald Trump calls into a UFC broadcast after a fight to drop some quick re-election talking points. It's almost as if they have no problem mixing sports and politics when it's their politics on display.
Even if there were people who truly wanted politics to be kept separate from sports in a strict nonpartisan way, that's simply not possible, if for no other reason than the incredible amount of money sports generate. In a country that can't tell the difference between political spending and free speech, money is an undeniably political force. And since people involved in sports are real people who exist in the real world, they tend to use whatever wealth, status or celebrity they have to influence political action.
You can't understand college athletics without understanding the conflict between the unpaid labor of athletes and the multibillion-dollar machine of the NCAA. You can't understand football without understanding brain trauma and, consequently, health care for retired players. You can't understand basketball without understanding the impoverished conditions from which innumerable players emerge. And, to echo SURFER's presidential endorsement, you can't understand surfing without understanding how human activity is impacting our oceans.
It is sensible for the most prominent surf magazine to endorse a political candidate, though the editors may not feel as strongly now after seeing Sen. Kamala Harris repeatedly defend fracking in the vice presidential debate.
"It becomes a lot harder to ignore the impacts of politics on our surfing lives when we're canceling surf trips due to pandemics, when our local lineups are choked with wildfire smoke or contaminated by industrial pollution, or when our homes are getting flattened by increasingly-powerful hurricanes," the magazine's endorsement editorial rightly argues.
Ocean sports like surfing and canoe paddling help localize the otherwise incomprehensibly vast problem of climate change. Seeing the shoreline of your childhood beach erode in fast forward delivers a gut-punch that talks of a 4-degree rise in global temperatures doesn't.
Besides, it's not as if endorsing a presidential ticket is SURFER's first foray into political discourse. It has documented the rise of modern surfing from iconic Hawaiian pastime to countercultural phenomenon to professional athletic competition, all the way to its current state as an international, multibillion-dollar corporate industry.
SURFER also covered the surf community's involvement with Black Lives Matter protests at length this summer, and it published what is perhaps the single most politically significant article in surf history: Rabbit Bartholomew's "Bustin' Down the Door" in 1977.
The essay announced the arrival of a new generation of Australian and South African surfers who were dominating the competitive circuit and redefining what was possible on the waves. The article brought long-simmering tensions between Hawaiian and Australian surfers to a boil. Fights broke out, death threats were made, and it took the growing legend of Eddie Aikau to broker a peace treaty between both sides.
That moment changed surfing forever, and SURFER was right at the center of it all. The ire of grievance-addicted online commenters over an endorsement of Biden as the less-bad option for the environment pales in comparison to the real-world consequences of publishing "Bustin' Down the Door." Risking offense to its readership has been a part of the magazine's character for decades.
A Unique Publication
No other magazine has captured the many sides of surfing like SURFER. From its unapologetic stance on ocean conservation to its rich profiles of surf scenes around the world, those types of stories will truly be missed with the magazine's absence.
"SURFER was true to the feeling that surfing gives you," said Beau Flemister, a local author who has written for the magazine. "They embraced that spirit of exploration and travel. They were able to paint a picture of that surf vagabond going to far-flung destinations to find waves."
Hawaii local Zak Noyle, who was a senior staff photographer for SURFER for eight years, agrees.
"SURFER brought surfing to a broader spectrum. It took surfing worldwide. They still considered the North Shore to be the mecca of surfing, the place everyone wants to go to, the proving grounds. SURFER showed that to the world," Noyle said.
SURFER was the first to put a literary touch on surfing, which helped validate it as something more refined and respectable than the favorite hobby of stereotypical beach bum burnouts. It brought people as close to the ocean as they could possibly get without needing to dry off after.
"That's why I shoot," Noyle said, "to share with 99.99% of the people who will never be able to see the waves from the water. People like my mom who will never go into the ocean. As a surfer, you know how special that is. The magazine was able to portray that love, that romance. It was a place of resetting, a special place for surfers."
"Whether that's pro surfing and how insane performance can get, or the feeling of surfing alone or with your friends, or how different people see surfing," Flemister said. "SURFER tried to diversify the ways people in America and beyond experience surfing, the feeling it gives you and the doors it opens up to cultures."
SURFER did not die because of its politics. It stayed alive for as long as it did because it was willing to get political, it was capable of communicating surfing's ephemeral beauty, and it challenged readers while simultaneously inviting them into unknown worlds.
Surfing is large; it contains multitudes. No other publication has captured its complexities like SURFER, and we are all worse off without it.