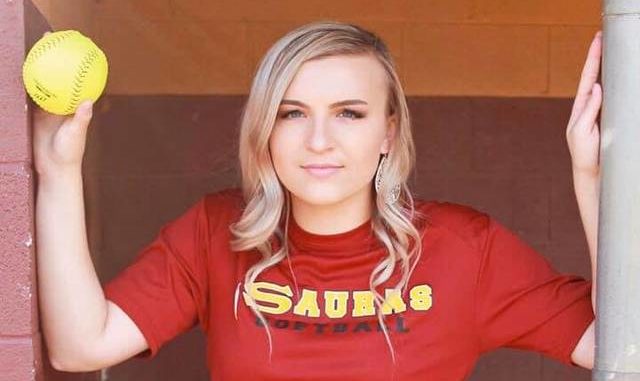 WALNUT COVE – Kelsey Hawkins, a recent graduate from South Stokes, had her senior softball season cut short due to school's closing because of COVID-19. The Sauras were off to a 3-1 start, the best since 2017, and finished with a final ranking of 8th in the 1A state polls from Maxpreps.com.
Hawkins played her first two years of high school at North Stokes and then transferred to South Stokes in 2019. She helped the Sauras improve from a 2-20 record in 2018 to 11-12 in 2019 and a second round playoff appearance.
Hawkins was a career .360 hitter with more than 80 RBIs and 80 runs scored. She was a part of the Beta Club, National Honor Society, FFA, HOSA Club, and Fellowship of Christian Students at South Stokes. Hawkins also graduated as Summa Cum Laude and a N.C. Scholar.
The Stokes News caught up with Hawkins, who plans on attending Forsyth Technical Community College and then transfer to the University of North Carolina at Greensboro and earn a Bachelor of Science Degree in nursing, and allowed us to get to know her on a more personal level and answered the following questions.
What's your favorite food? My favorite food is mashed potatoes and my all-time favorite dessert is ice cream!
What's your favorite subject in school? Math
Who's had the most influence in your life? My parents have supported me in everything I do and always encouraged me to be the best I can be.
What kind of music do you enjoy? I enjoy listening to country music.
What's your favorite TV show? "Vampire Diaries"
What's the best book you've read? "The Fault in Our Stars" by John Green. The book taught me life lessons, including that you should not be ashamed of the triumph in your life. For me personally, overcoming the adversity I have faced in my life has been one of the most rewarding things.
If you could have one super power, what would it be and why? The ability to heal people because I hate to see people suffer and I find joy in helping others.
What's your favorite sport? Softball has been my favorite thing to do since I was six years old and it has brought me so many good memories.
What website do you visit most often? Facebook
What's the best single day of the year and why? Thanksgiving because I love spending time with my family and enjoying some home cooked food.
What's special about the place you grew up? I grew up in Sandy Ridge and its special because that is where my family has grown up and I love being able to hear the history of my family.
What are you most likely to become famous for? For taking care of people as a nurse.
Who's your favorite teacher/coach, why? My favorite teacher is Mrs. Amber Stewart. She was my fourth and fifth grade teacher and I absolutely loved her class!
Where would you go on your dream vacation? Bora Bora
What amazing thing did you do that no one was around to see? I took care of my great grandma when she was sick and helped her do anything she asked me to do.
What hobbies do you have? Softball, swimming, crocheting, and wakeboarding.
What's the best way to start a day? The best way to start the day is to pray and thank God for everything he does for me and read his word!
What's the hardest lesson you've learned? That change can be a good thing in your life no matter how scary it may be. Leaning on God's own understandings and trusting in him will comfort you in the storm.
What's the best thing about you? I am always willing to put others before myself.
Who's your favorite athlete and why? Simone Biles because she is a prime example of how determination and hard work can pay off in the long run.
Look for more "Getting to know Stokes County Athletes" in up-and-coming issues of The Stokes News.
Robert Money can be reached at 336-749-1193.