Madison committees cool on proposal to break up homeless encampments amid COVID-19 pandemic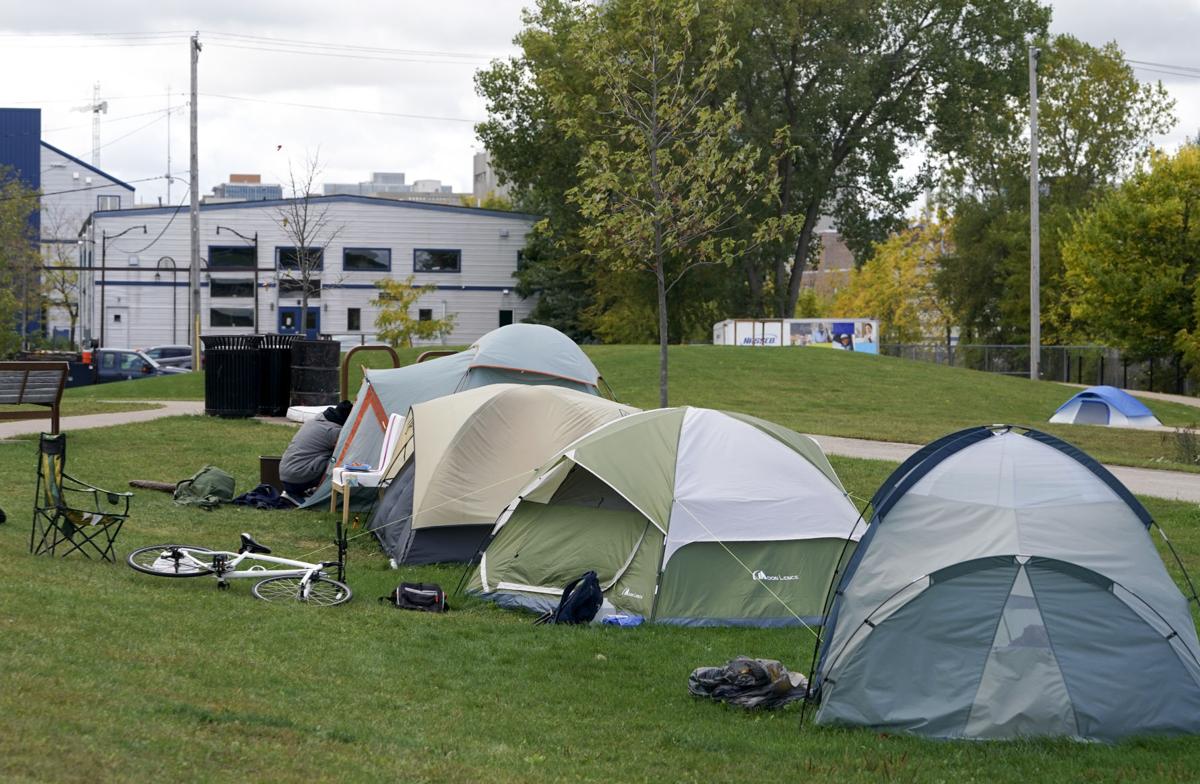 Logan Wroge | Wisconsin State Journal
With winter approaching and dozens of homeless individuals living in city-approved and unsanctioned outdoor encampments, two Madison committees were cool Wednesday on a proposal to begin breaking up campsites on city land.
The Public Safety Review Committee rejected a proposal by two City Council members to end an emergency order issued this spring that has allowed temporarily camps for people experiencing homelessness in certain parks and greenways. The proposal would also direct staff to break up other unsanctioned camps.
"It's been made very apparent there's a lot of problems with this," said committee member Matthew Mitnick. "In a way, this would criminalize homelessness. It would create more problems than it would solve."
Wanting more information on what shelter solutions the city is exploring, the Parks Commission was hesitant on putting an end to the encampments and pushed back a decision on the proposal until next month.
Volunteers and advocates for the homeless spoke out against the proposal, saying there's no viable plan in place to shelter those living in encampments, which act as a centralized locations to provide outreach and services.
A resolution sponsored by Alds. Samba Baldeh and Zachary Henak would end the emergency order Mayor Satya Rhodes-Conway issued in May in response to the COVID-19 pandemic to allow "temporary permissible encampments" in eligible parks and greenways.
The proposal would direct staff to enforce existing city ordinances that ban overnight camping in parks and break up unauthorized encampments like one in McPike Park.
It calls for city staff to work with the county and homeless service organizations to help find "more humane housing options."
Baldeh told the Parks Commission the intent of the resolution is not to criminalize homelessness, but he said it is to jump-start a community effort to get people sleeping outside into safer settings.
"We should find other options where we house these people as opposed to insisting any resolution that wants to address the situation is anti-homeless people," he said. "I do care about these people, but I do think this resolution needs to move forward so we can all find a way to solve this."
If approved by the City Council, Baldeh envisioned those living in encampments would be provided information on existing shelter options, and the ordinances banning camping would only be enforced against those who then continue to remain on public land.
Support Local Journalism
He said he wouldn't want police involved in breaking up camps if it came to it.
But Jim O'Keefe, the city community services director, said the current shelter system doesn't have capacity to safely absorb the estimated 200 people in Madison believed to be staying in encampments, cars or on the street.
The city is providing shelter solutions for those experiencing homelessness, such as converting the Warner Park Community Recreation Center into a single men's shelter and renting hotel rooms, O'Keefe said.
Within the next few weeks, though, O'Keefe said the city hopes to secure a new, temporary shelter location that could expand the number of people safely served.
Addressing the Public Safety Review Committee, acting Police Chief Vic Wahl said there's been an increase in disturbances and behavioral problems near some of the encampments, creating "some challenges from a policing perspective."
Wahl said he doesn't have an opinion on whether the City Council should approve or reject breaking up the camps.
"Certainly, we're not enthused about trying to go in and clear out camps," Wahl said. "We want to take a much more collaborative approach, you know, with all the other city agencies and community partners and try to find some good solutions to this issue."
The May emergency order allowing for "temporary permissible encampments" was largely aimed at letting homeless people camping outside stay where they are and not encourage new encampments, rather than risk dispersing them throughout the community and increasing the risk of transmitting the coronavirus.
The city-sanctioned encampments, such as one in Reindahl Park on the Far East Side, are equipped with portable toilets, handwashing stations and trash containers. O'Keefe said only three encampments met the criteria for a city-approved campsite.
But unsanctioned encampments, such as one 10 blocks from the state Capitol in McPike Park, have also formed.
<&rdpStrong>Photos: Brisk winds draw kiteboarders to Lake Monona</&rdpStrong>