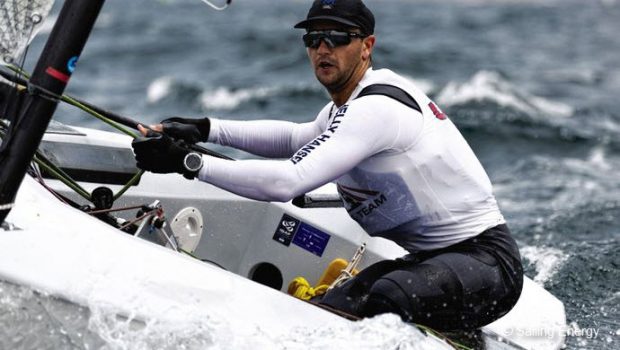 Published on October 15th, 2020
With international travel and training curtailed during the pandemic, Luke Muller, the US Sailing Team's Finn sailor, was forced to take a different path. Report by Dave Powlison for Sailing World.
---
It's a hot late afternoon at the Houston YC, and the sea breeze that kicked in earlier in the afternoon is winding down. At the boat ramp, two Finns have just been hosed off and are being put away for the day when a nondescript, silver Toyota Tundra pickup truck pulls in and stops a short distance away. One sailor, still in his kit from the afternoon training session, walks to the pickup truck and holds his cellphone to the truck window. The driver does the same on the opposite side.
It's not a high-tech drug deal, but rather an airdrop that exchanges a file over a Bluetooth connection. The driver, Luther Carpenter, is the US Olympic Finn coach, and the sailor is Luke Muller, who has just been named the US Finn representative for the 2021 Olympic Games in Tokyo. Carpenter is transferring video of the day's training session, which Muller, along with his training partner, Eric Anderson, will pore over after dinner until it's time to call it a day. It's all part of the new normal for Olympic training—no traveling, lots of training at one venue, and an intentionally over-the-top focus on health that includes keeping one's distance from others, even the coach.
The challenge adds an additional layer to an already complex program of preparedness for what is arguably one of the pinnacles of the sport, but one Muller and team fully embrace. It's part of a trajectory he's been on since establishing himself in the Laser class, ­winning the 2013 US Nationals at the ripe old age of 17. As the 6-foot-3-inch teenager got bigger, it was a natural progression to the Finn. "He started showing up at European championships," Carpenter recalls. "He was somehow finding a boat—not the best boat, didn't have the best mast, had a borrowed sail—and was just doing it." Full report.

---
Tokyo Olympic Sailing Program
Men's One Person Dinghy – Laser
Women's One Person Dinghy – Laser Radial
Men's Two Person Dinghy – 470
Women's Two Person Dinghy – 470
Men's Skiff – 49er
Women's Skiff – 49erFx
Men's One Person Dinghy Heavy – Finn
Men's Windsurfing – RS:X
Women's Windsurfing – RS:X
Mixed Multihull – Nacra 17
Original dates: July 24 to August 9, 2020
Revised dates: July 23 to August 8, 2021
Details: https://tokyo2020.org/en/games/schedule/olympic/