You'd think that, by now, we'd be desensitized to this sorta thing. That, with all the wavepools cropping up across the world, with bigger and better and more realistic waves, we'd be numb when a new one comes along. You'd think so, but apparently not.
The first look at Wavegarden's newest installation in South Korea dropped recently, and with it, our jaws did, too. The initial footage showed three reeling righthanders in succession with a banger air section to boot. Simply dubbed "Wave Park," the Siheung City incarnation of Wavegarden's Cove technology looked like the best that had come across our desks so far – needless to say, our interest was piqued.
And it turns out, this is their best yet. Bigger than the test facility in Spain, more wave variations than the one in Melbourne. It features 11-second tubes, an upgraded air section, and a menu of over 30 types of waves to gorge on. So, to hear more about the project, we hit up Wavegarden founder, Josema Odriozola.
Surfline: This is the biggest Wavegarden Cove yet, right? What're the specifics on the size of the pool, size of the waves, quantity of waves per hour, etc?
Josema Odriozola: Yes, Wave Park in South Korea is the biggest Wavegarden Cove in the world. To give you a brief overview, the surfing lagoon is on "Turtle Island," a manmade island on the coastline of Siheung City. The water body covers an area of approximately 26,000 square meters, customized to match the site master plan: the left wall is 160 meters and the right wall is 200 meters.
Our technology is modular and Wave Park has 56 modules. This is 10 more than a standard facility and we saw that it added approximately three seconds of constant height to the waves. There are four surfing areas – two reefs and two bays. The waves range from 50 centimeters in the bays to 1.95 meters (~6.4 feet) in the reef areas. We can make up to 1,000 waves per hour on the smaller wave settings, and approximately 300 quality waves on the larger settings – for instance, on the larger turn waves or barrel waves like The Beast.
Additionally, Wave Park uses our latest water treatment and filtration technology to keep the water crystal clear and hygienically safe. The entire complex is in excess of 160,000 square meters, which includes the main building, restaurants, surf academy, beaches and landscaped surroundings. There are several thousand residential units presently under construction, along with five hotels and a marina.
What type of waves can be produced in this pool – everything from expert to beginner and everything in between?
The wave menu offers something for everyone – beginners, intermediates, and experts. Beginners can start out in the bays on small whitewater waves and there's a small open-face reform that we call "Speedies" for them to practice on. The reefs offer great open-face waves for intermediate surfers – these include the Waikiki, Malibu and smaller turn waves. For experts, we have the six turns wave, a host of different barrels, and a new air section. Each wave type comes in three-to-four different sizes and peeling speeds. So, in total, there's about 30 different waves on the menu for surfers to try out and enjoy.
Talk about the tube sections…from the clips we've seen, it looks like they're the longest Wavegarden barrels yet.
With 56 modules, we are able to produce the longest barrels we have ever made. The Beast comes in three different sizes, plus a faster version where surfers need to pump inside the tube to make it out. The take-off is relatively mellow and good surfers can execute a solid maneuver before setting a line and charging the barrel section that unfurls with an intense perfection.
Californian Jacob Szekely was with us for a week and threaded through some really deep barrels, exiting cleanly before doing some pretty impressive airs on the end section. Other surfers finished the wave with an air reverse, re-entry, or roundhouse cutback. The longest barrel we recorded at Wave Park – where a surfer pulled in from take-off to the end – was 11 seconds long.
And what about air sections?
Following six months of testing at our demo center in Spain, we implemented the new air section at Wave Park for the first time. It was really successful and we plan to include this at all facilities. Jacob, our test pilot, was able to perform his extensive repertoire of airs.
He described our air section as the best that he has surfed to date – and his insights and feedback will help us improve it even further. We also have softer versions for those surfers trying airs for the first time.
How will this facility be used to improve South Korea's profile on the competitive world surfing stage, from the Olympics to the CT and beyond?
Interestingly enough, South Korea has a small but core surf community. Many people venture out to the coastline each time a new swell arrives. The biggest problem they have is consistency – in Korea, good swells are not so frequent. Nonetheless, the surf scene is kind of booming. The city of Seoul and its neighboring metropolitan areas has a population of 25 million and with Wave Park up and running, they have access to great waves for learning and training.
Wave Park opened October 8th, and has been packed with people on a regular basis trying their hand at surfing – many for the first time. Having access to good waves all year long will no doubt allow the local surf market to expand exponentially. For international surfers, Wave Park is only one hour away from the airport. There are regular direct flights from cities in Europe, USA, Japan, Australia, and Indonesia; tickets are affordable and the onsite amenities are second to none. We expect Wave Park to become a hub for pro surfer training sessions, especially for Olympic teams that are keen to provide their athletes with the competitive edge that consistent world-class waves can deliver.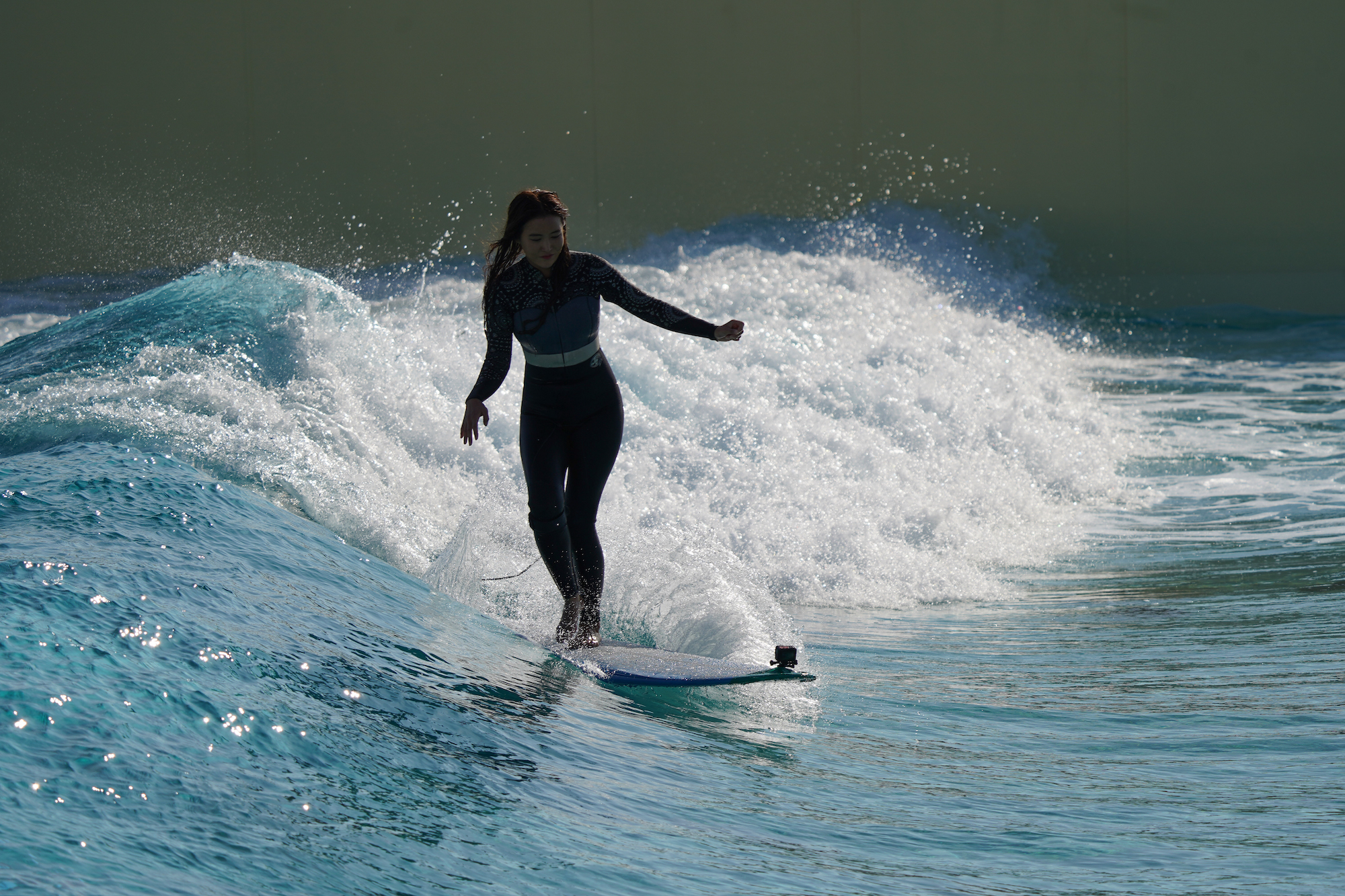 What has been the response from the local South Korean surfers so far?
The core surf community is simply stoked. It's a complete novelty for the rest of the population –  they are very curious and many spectators turn up just to see what it is all about. We spoke to lots of beginners after their session at the surf academy and they were overwhelmed with joy. This is very rewarding for our team who have worked tirelessly to create waves and surf destinations that are accessible to everyone.
What aspects make this Wavegarden Cove different from others already in operation or construction?
I think there are a range of key differences between Wavegarden and other surf park developers. We have a wide variety of waves for all levels. Our energy consumption is much less – up to 10 times inferior than pneumatic systems, which means running costs are way lower. This allows our partners to offer affordable prices to all surfers. We also have the highest wave frequency which allows for a high capacity. In short, our facilities are accessible to most people and make sound business sense for investors. And finally, our water treatment system delivers quality hygienic and crystal-clear water well beyond anything else in the wave park sector.
What's next for Wavegarden?
In terms of projects, we have new Wavegarden facilities opening in Sion, Switzerland and San Paulo, Brazil in the first half of 2021. And we have another 35 in development across all five continents. From a technological standpoint, we have developed a range of new footprint shapes and sizes that will fit any scale project. And, importantly, as surfers having grown up surfing in the ocean and close to nature, we are working on many new developments that will make our facilities highly sustainable and eco-friendly.