How do you feel about travelling overseas to surf?
So many countries have rideable waves, so if I can manage to mix fun, work and waves, that's a bonus. It's an amazing experience to be able to enjoy a culture, meet people, visit new places and tap into the ocean. Surfing can also take you to remote areas that you may not typically visit, so you can sometimes explore regions before they have been developed as full-blown tourist destinations.
What have been your most memorable times surfing?
Road trips travelling with mates when we were younger were always incredible. We would jump in the old Holden and head up to NSW or Queensland without any real plans or time limits, and just find beautiful unspoilt beaches and enjoy that simple experience.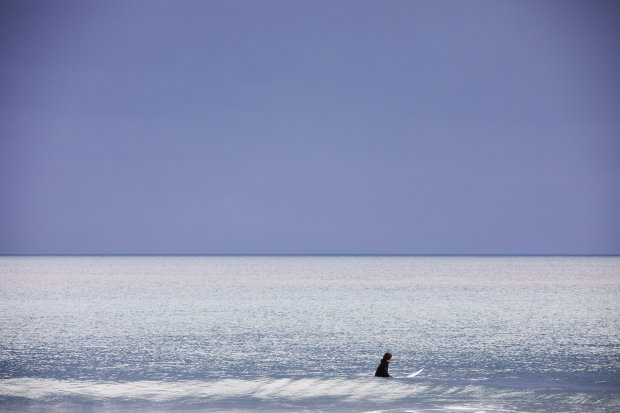 How many boards do you own and what are they?
I have a bit of a problem with boards – I own too many. I have a variety from five‑foot twin fins to seven‑foot-six Gun boards. I like the weird and wonderful boards I've collected over the years. They are mostly hand-shaped by friends or local shapers I've had a chat with and worked out a custom board, which is then hand-made specifically to my dimensions and requirements. They are works of art, so I keep most of them and am now handing them down to my 14-year-old son, Van, who has a laugh at his old man's weird boards.
Do you surf on your own?
Yes. However, I usually try to surf with a few mates because it's great to have a laugh out on the water. But I am also happy to have a paddle on my own, and with COVID restrictions I've had some great sessions as the only person on the beach, with perfect waves.
Who's your favourite surfer?
[Australian former pro surfer] Richard Cram.
Who would you most like to go surfing with?
My son.
Any tips to become a better surfer?
Just practise and don't try too hard. Keep flexible and fit as you get older.
Have you ever been scared in the water?
A few times I've had some bad wipeouts where I got a bit freaked out and breathless. In Indonesia, I had a shark do the Jaws thing, where I saw the fin coming straight at me and then gradually it went under the surface as it approached me, sitting on my board. That was a bit disconcerting.
Advertisement
Any injuries or catastrophes in the water?
Nothing too bad, considering how long I have surfed … a few stitches here and there, and strained knees, ankles and the like.
What's your favourite surf gear?
A super warm wetsuit.
Is there anything you dislike about surfing?
Crowds, but I'm lucky. Where I live, I can hunt around and find something off the beaten track.
What's your view on sharks?
They are OK as long they're not hanging off my leg.
What do you most like about surfing?
Being in the ocean, watching nature, the sky, the birds, the waves, laughing and hooting with my mates and just gliding along a moving swell of water.
What do you think about when you're sitting out there on your board?
As little as possible – which is kind of the point.
life&leisure@afr.com