By Tom Modugno of Goleta Surfing
Born in the wide expanses of Colorado in the late 1940's, James Powell loved being in the country. One of his many chores in those days was to keep the coyotes out of the chicken coop. The chore would be tough with this rifle (pictured above), since he found it down by the river and it didn't fire. Makes for a great first image though.
When James moved with his family to Santa Barbara in 1957, he managed to keep living in the country. He spent a lot of his time at the El Bosque Ranch, Hope Ranch and the Hollister Ranch.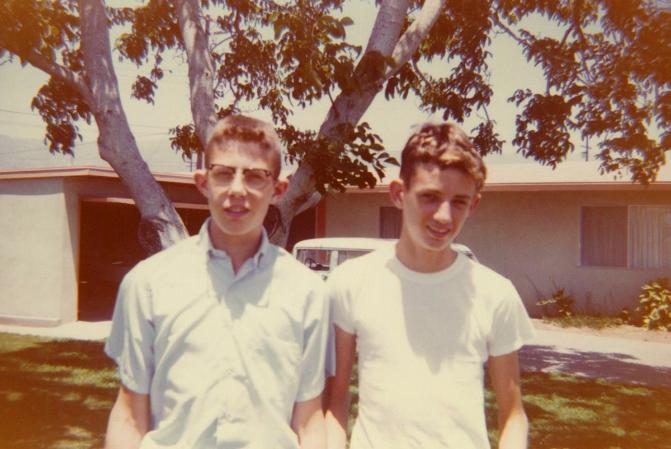 Jim, on the right, and his brother John were now Californians, and at the beginning of a new era. The ocean was about to consume their lives.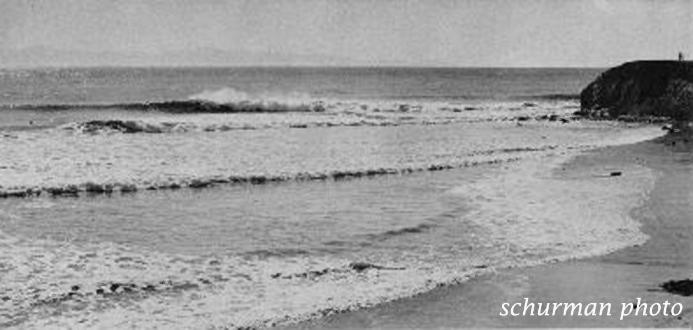 Before long, he found himself at Campus Point, learning to surf. His older brother, John, had bought a used Gordie. "My brother and I had one board between the two of us. We took it down to the poles in the summer and stood in knee-deep water with it. When a ripple appeared, one of us would give the board a little push forward and jump on the board. The waves were maybe ankle or knee high."
They soon considered themselves Campus locals. Some of the other guys who surfed campus then were Nick "Huchman" Redman, Glen Merrifield "The Ravin' Baby Ese Animal Gargantua Cabron." (Love those nicknames!)
When winter came, they saw what Campus was really capable of. Kemp Aaberg and some other older guys from the university would occasionally stop in and show them how it was done. Jim and his brother would go down to Rincon with their dad to watch the big boys surf, and they go the stoke.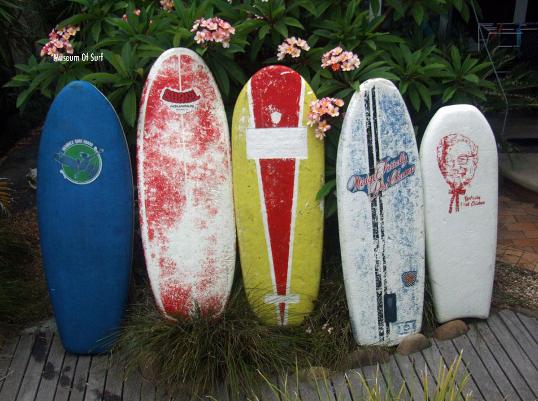 Jim's first board didn't have any glass. It was something like these beauties shown above. His dad bought it at Thrifty Drug store! It was only about 7 feet long. "They were not short boards in the sense of short boards, in fact, the shape was a joke and the foam was weak. Also it would melt if you attempted to glass it. They snapped easily and they had no glide, so catching waves was all muscle."
They were also almost impossible to knee paddle, so that meant always being wet, and this was pre wetsuit days. "A concept good for martyrs." Given all that, he was always borrowing boards form buddies and girlfriends. Until Bobby Hazard kindly sold him his first real board for fifty bucks. "It was a beauty."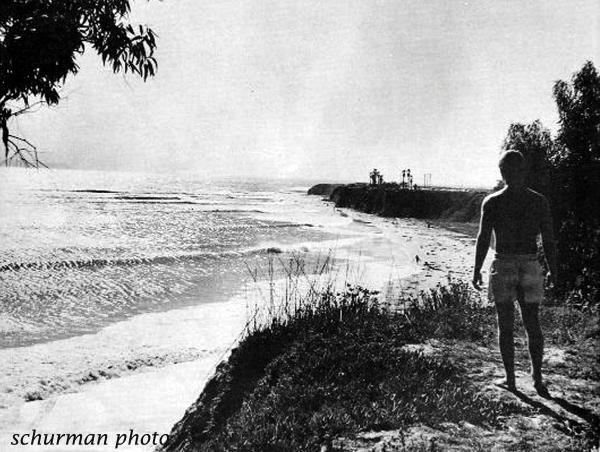 James remembers, "We had no wetsuits then, though you could get a diving suit from the Diver's Den. We built huge fires at campus to warm up. The fire served a kind of tribal function. So many stories told around those fires." They occasionally burned tires to get a fire going after a cold surf, as so many early surfers did, but the best thing to have was a milk carton. 
"On a rainy day you could get wet wood burning by igniting a milk carton. But building the fire was an art form. It was considered bad form to use a milk carton on dry driftwood. Using more than one match was also bad form. You had to layer your kindling with care." Sounds like science.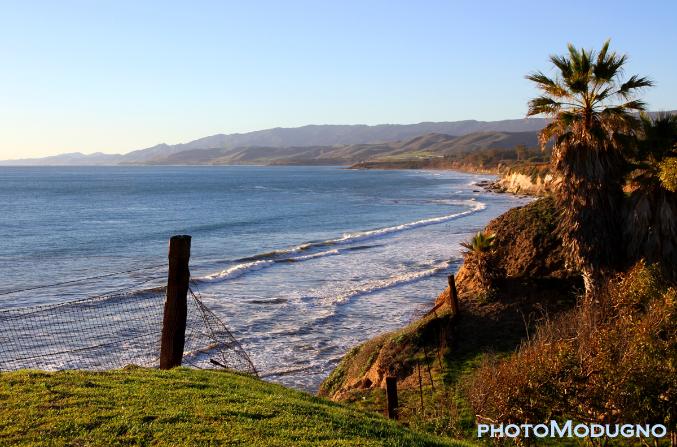 In the 1950s, not many surfers frequented breaks on the Gaviota Coast. During swells, Rincon was the big draw. Hammonds and Campus had tiny crews. One or two at Sandbar was a big crowd. Some other guys were drawn to Holliser Ranch, but the coast between Goleta and the Ranch was largely overlooked. On low tides, Powell began riding his bike up the beach, exploring and hunting for new breaks. One of the first he discovered was Naples, but soon he started surfing other spots up the wild coast.
Once he located a spot on his bike, he would drive back up with his board. Back then you could park right up in the oil fields at Naples and other spots. Eventually though, they stopped letting surfers park there, so then they had to park along the highway and hike in.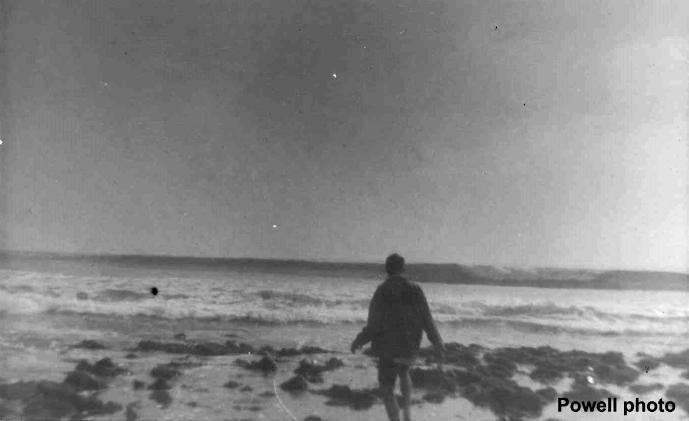 Naples in November 1961, taken with a Brownie. Jim had discovered this spot on a big-swell, low-tide bicycle probe up the coast. 
"The photo was snapped the afternoon I initiated Don 'Whooper' Robertson, of the Hope Ranch surf trip, into knowledge of this pristine realm." Naples was never one of their favorite waves, probably due to the boards of that era.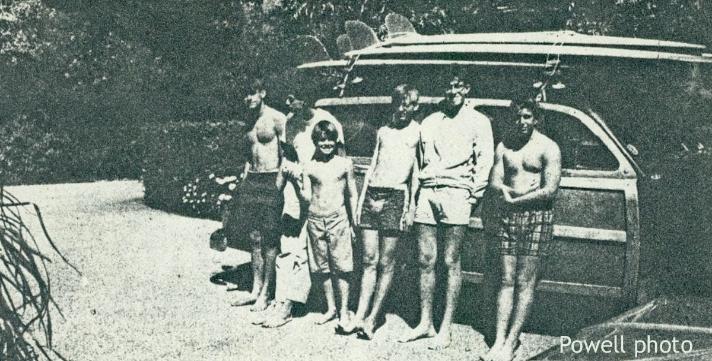 Stoked groms. 
In Junior High, James considered himself a Campus local. Then he met some Hope Ranch guys at school and started surfing at Hope Ranch. Before long, he became friends with some Pit locals, Mike Haskell and the Hazard brothers. The tribes all started to mingle. The Pit guys started hanging out with some Hope Ranch gals, and the Hope Ranch guys got interested in some Pit gals. They would all go surfing and hang out together, one big happy clan.
This was taken near Hope Ranch, probably at the Hazard's place on Las Positas Road. The lineup from left is Don "Whooper" Robertson, James "Slim" Powell, Danny "Piss Ant" Hazard," Some Guy From Out of Town Who Nobody Remembers, Jim's brother John "The Ace" Powell (in glasses) and Alan Hazard. Check out the fins on those logs.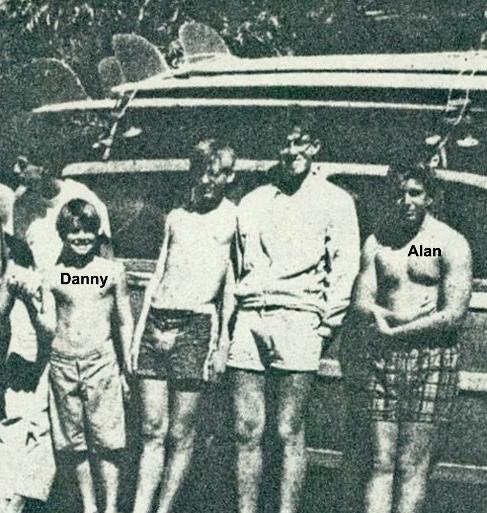 A word about the Hazards, Danny and Alan shown here. The Hazard household was always teeming with surfers. Their mom supplied everyone with trunks. Miraculously, Jim's brother still has his Hazard trunks! Mrs. Hazard was always trying to fatten Jim up with blackberry pies. Jim rarely hung out with Alan, and almost never with the oldest brother, Bob, who surfed up at the Ranch mostly. Between the three of them, they had an immense store of wave knowledge. The Hazard kids were smart, talented, and really got to live the best of Santa Barbara surfing and just Santa Barbara in general.
Bobby Hazard sold Jim a Yater he'd owned for some time. One of the most beautiful boards Jim had ever seen. The lines… everywhere he went people would comment. One day Hammond's was big and John Peck borrowed the board. Peck said it was the fastest he'd ever surfed. Bobby also sold Jim his 1949 Dodge Dart, with synchromesh transmission, for 50 bucks. Behind the front seat, a mattress all the way back and through the trunk. Jim drove it for years. He would drive it up the railroad tracks to get to some sweet spots. Eventually, he sold it to "Whooper" for 50 bucks, and he drove it for years! Whooper didn't want to bother with a key so he ripped out that switch and replaced it with a simple on/off switch. In Hope Ranch, that vehicle surely raised some eyebrows.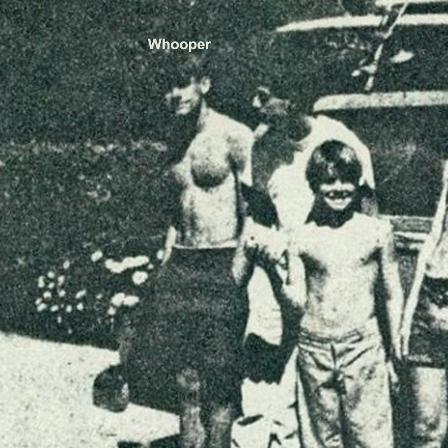 One more note about the crew. In high school, the boys had a contest to see who could wear their same pair of corduroy pants every day without washing them. After two years, Whooper won. (If you consider wearing pants that haven't been washed in two years winning.)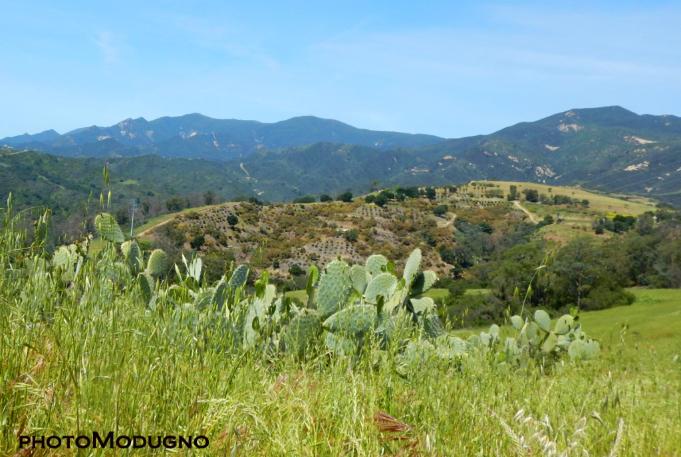 Around this time Mike Haskell's parents owned a ranch in the hills above Haskell's beach. Jim and the boys used to hang out in the cottage up there. The ranch featured an ailing avocado orchard and a panoramic view of the coast.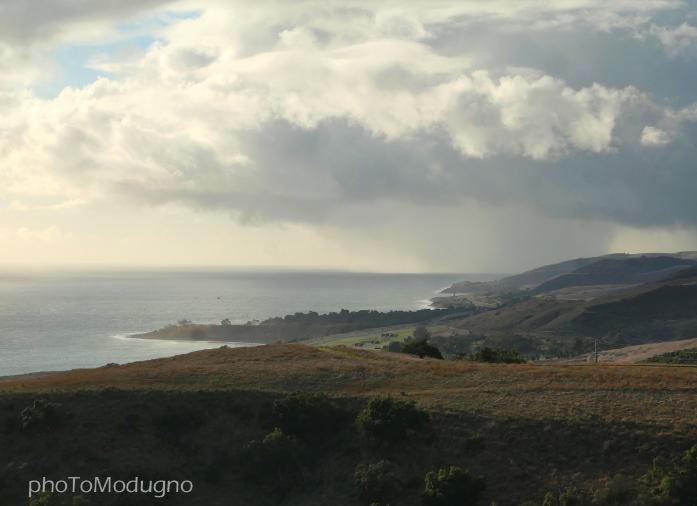 The boys had spent the night at Haskell's ranch and they woke up to see a healthy swell rolling in. (That's how you used to get a surf report, by looking). They started up the coast and ended up at El Capitan. It was the first time, to Powell's knowledge, that anyone had surfed there. It was Mike Haskell, Powel, his brother John, maybe Don Robertson, and Steve Neal. They thought the one guy that may have surfed it before them was Benny Hartman, who lived at El Capitan Ranch. It wasn't huge, but it was clean, and it left an impression on the young surfers. They called the spot S-Tubes, short for Secret Tubes.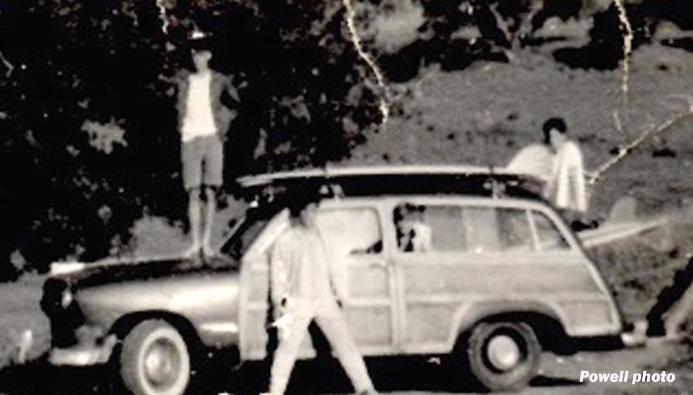 As Jim got older, he and his crew got bolder, constantly searching for new and exciting places to surf. His older brother "Ace" had the ultimate surf vehicle, a woody. Soon they were expanding their horizons down the coast to the Ventura Overhead and Rincon. Rincon was not that crowded yet, so very few guys even thought about going north to surf.
The guy standing on the hood is Don "Whooper" Robertson. The "Ace" John Powell is leaning against the door with Mike Haskell's head peering out the window. And "Slim" Jim Powell hanging out the back. This shot was taken up at the gate near the Haskell's Ranch up Farren Road.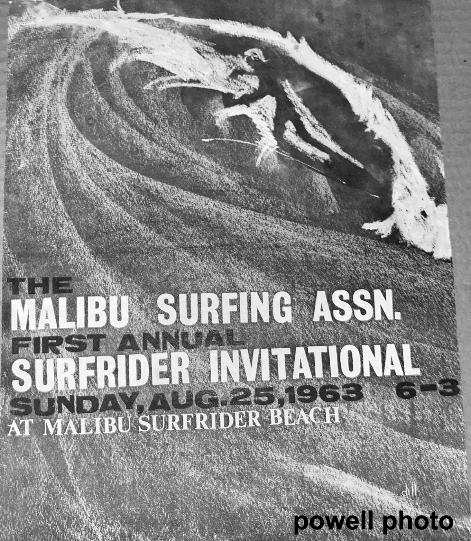 Together with the Pit guys in 1963, the Hope Ranch Surf Club decided to enter the First Annual Malibu Surfing Association Surfrider Invitational. They decided that rather than just having their little tribe in the contest, they should invite the best Santa Barbara surfers to compete for their club.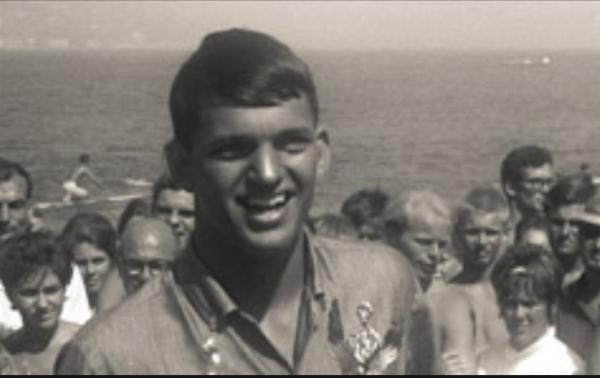 The most amazing surfer on the team turned out to be John Peck, whose family had just relocated to Hope Ranch from the Islands. 
"We drove down to Malibu with him to see how he would do on those waves. His style was cat-like. The smoothest I'd ever seen. He ended up placing second, after Wind-&-Sea's Joey Cabell. I don't know why we didn't enter Shaun Claffey, because he probably would have placed first. Danny Hazard and I were on the paddling team. For practice, I used to paddle from Hope Ranch to the Pit and back."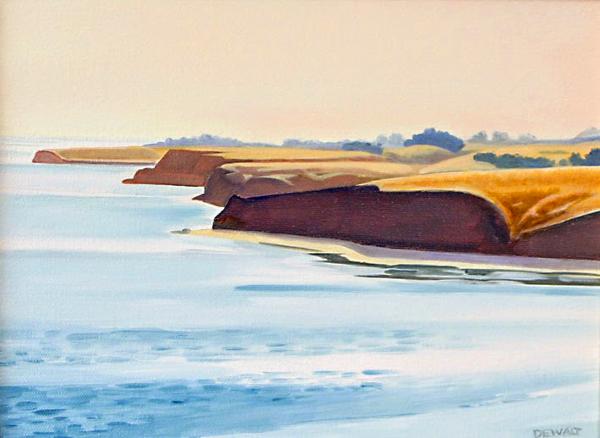 Jim recalls, "The Hollister Ranch was a working cattle ranch. On its 20 miles of private shoreline broke some of the best waves in the world. Some older surfers had formed an association called the Santa Barbara Surf Club, and worked out a deal with the Hollister family allowing exclusive beach privileges to its members. Membership was fixed at 60, meetings were presided over by Arlen Knight and held upstairs at what is now Wells Fargo on Anacapa."
"The only way the members of our tribe finally got into The Ranch was to put our names on the club waiting list and wait in purgatorial impatience until some member would drop out of the club, or get killed in Vietnam. Then we would be voted in, and the Golden Doors of Heaven would open for us."

The club members built beach houses of mostly driftwood and would sometimes just disappear to the Ranch for a week or more of pure surfing and living off next to nothing. Minimalism.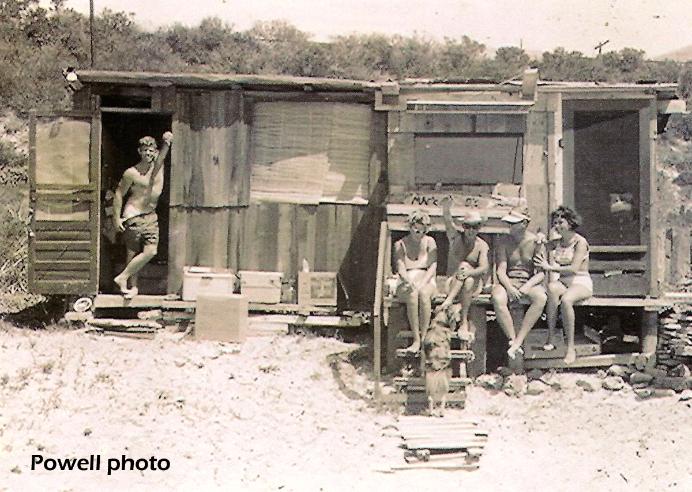 The shacks became a real gathering place. Lots of surfing legends were regulars. George Greenough was up there a lot. Being a resourceful fellow, he would paddle out on his air mattress to look for food. When he'd spot a halibut on the sea floor, he'd dangle a fishing line right down in front of it. Once he got a bite, he let the fish tow him until tired, and then, there was breakfast, lunch, and maybe dinner. 
Rennie Yater was also a regular. Some of the guys started called Yater "Mr. Clean." That was a result of Yater's pared-down functionalism in all things. After the sixties, we would have called Yater's way "Zen." The "Mr. Clean" nickname may have also been because he was responsible for keeping the surfers out of trouble at the ranch.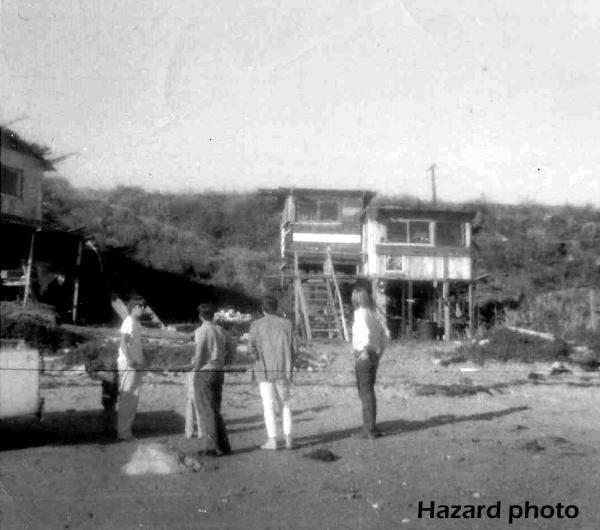 Jim had signed up on the waiting list to become a Surf Club member and in a few years his dream came true. He was finally allowed into the Ranch. Seems amazing today that the cattle ranchers at Hollister would allow these guys to build these big ramshackle houses. Never happen in today's lawsuit crazy world. Pictured here is Bob Hazard with some of his crew. These guys were a couple of years older than Jim and attended Santa Barbara High.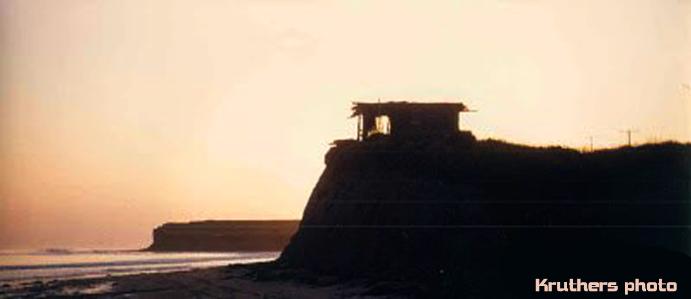 The Hazards had built their own shack at a different spot. Mike Haskell's dad, who owned a construction business in town, arranged for the train company to drop off some of the wood for their shack. When Jim slept over, it was almost always at the Hazard's shack. Many of Jim's most memorable Ranch experiences were due to the Hazard's hospitality. 
Jim remembers, "If a bunch of guys were spending the night, we'd build a fire on the beach, cook, eat, and sit around and talk. This was important to me especially during the Vietnam era. As a pacifist, when I was in internal exile at the Ranch, I was able not only to remain near or immersed within the Pacific, but enjoyed the support and camaraderies of a group of surfers sympathetic to the stance I had taken."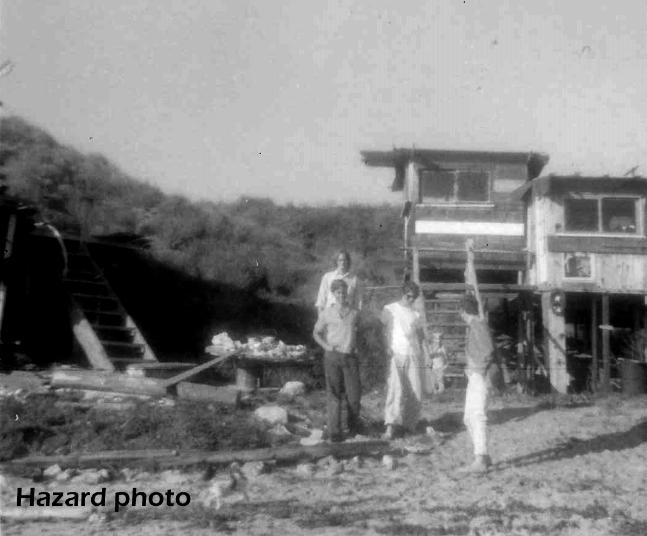 During the Vietnam war, a lot of the Ranch guys had shipped off overseas, so weekdays it was easy to have the Ranch all to yourself. During this time, Jim had a friend drop him off for a few days of solo surfing. He stashed his gear in the Hazard's shack and headed out for a surf.
The tide was low and as he waded out with his board he felt a sharp sensation. He had practically sliced off the big toe of his right foot. It was bleeding like crazy. He made it up to the shack, then staunched and elevated the wound. (This was a long time before mobile phones). In a few minutes he spotted a VW Bug racing down from St. Augustine. It was Dewey Schurman, who had been surfing the upper Ranch. Thankfully, he gave Jim a ride to the hospital.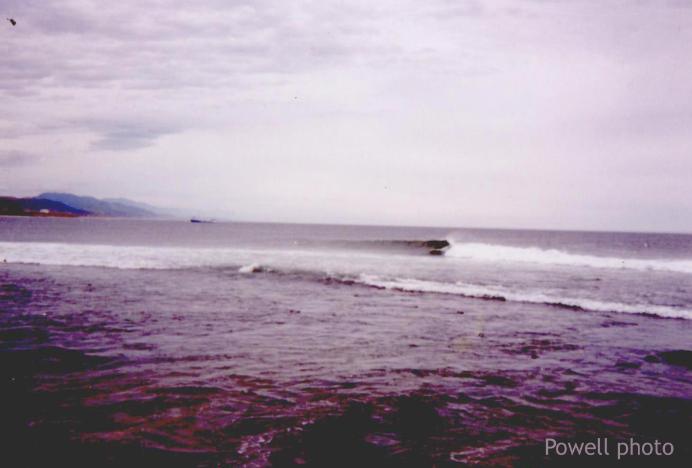 Around 1972, the Surf Club lost ranch privileges. Jim began going up with a former Navy Seal in an inflatable. But the Seal lived all the way up in Cayucos, and Jim wanted to go in more often. Jim began having dreams about going in from Jalama. Those dreams stemmed from one trip he took up to Jalam when he was a kid. Danny Hazard, Whooper, Jim and his brother really wanted to surf the ranch so Danny said, "Well let's walk in." So they started walking down the ranch with their logs. Obviously, they didn't get far. It was about a six-mile hike, not to mention the ranchers.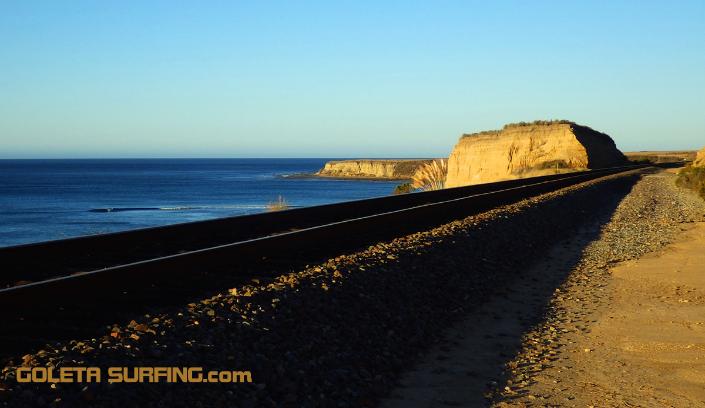 Where there's a will there's a way, so Jim started biking in from Jalama on the railroad easement. He stashed a couple of boards near Govies and biked in regularly for years. Bringing the boards in was a chore. He timed it for the afternoon, when there was a wind and he used the board as kind of a sail.

Read the rest of the story at GoletaSurfing.com